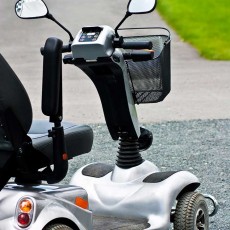 At some point in life, everyone gets to an age where their body starts to slow down and simple tasks such as walking to the shops become a bit of a struggle. If you have a disability or just have trouble walking, a mobility scooter helps you get around and gives you independence. Mobility scooters have transformed the lives of so many people who would otherwise have difficulties getting out and about. Take a look at these questions below, if you can relate to one or two, you should start to consider adapting your lifestyle to align with your body and gain your independence back. Introducing a mobility scooter into your life could be the answer.
1. Do you have problems moving around your home or getting out and about?
2. Are you unable to walk or stand for long periods of time?
3. Do you get tired or experience pain after walking short distances?
4. Are you relying on others to help you do daily chores and run errands, unable to enjoy the things you once did?
5. Do you spend more than 5 hours of your day sitting or laying down at home due to mobility issues?
6. Struggling with your upper body strength trying to get round in a wheelchair?
Having a mobility aid, whether it is an electric scooter or a power chair, will give you the independence to enjoy life. You will be able to interact with the outside world and be self-reliant enough to go about your daily errands without relying on others to get you from place to place. There are numerous styles of mobility scooters to suit the needs of everyone. Please come and see us in one of our two Showrooms on the Sunshine Coast, if you are unable to come to one of our showrooms we'll come to you. We will help you find the perfect one to suit your particular needs and show you everything you need to know about using a mobility scooter.
Please contact our Buderim Showroom 07 5445 6787 or our Caloundra Showroom 07 5438 2944