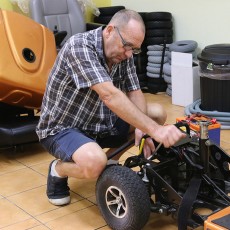 A mobility scooter is a great investment and we know it plays and extremely important part of your daily living by giving you independence. You rely on this scooter everyday and it can be the difference between being stuck at home with no way of getting around or getting out and enjoying our beautiful sunny weather on the Sunshine Coast. It can make a trip to the shops and running errands a lot easier, your mobility scooter becomes your legs and you can't be without it! With all this in mind it is understandable that just like a car, your mobility scooter needs regular maintenance and annual servicing to make sure it is kept in good working order and always safe and ready to go.
The top manufactures recommend an annual service for your mobility scooter as it can save you a lot of money in the long term. Don't get stuck in a situation where you are without your scooter due to a mechanical problem, therefore having to rely on friends and family driving you from place to place just so you can run your errands. Be smart, make sure your scooter is well maintained and make sure it has at least one service a year and you will know that it is running at its' absolute best.
Our service devision is the biggest repairer of mobility scooters on the Sunshine Coast, we pride ourselves in making sure each of our customers scooter's are in top working order and meet all the safety requirements needed in order to drive. We can service and repair any brand or model and are an authorised repairer for Shoprider, Pride Mobility, Invacare and CTM. Our service team will pick your scooter up and return it to you on the same day along with a detailed service report.
We also service and repair wheelchairs, wheeled walkers, tilt and recline chairs, electric beds, patient hoists, airchairs,shower commodes etc.
Please contact our Buderim Showroom 07 5445 6787 or our Caloundra Showroom 07 5438 2944 to book a repair or service call for a mobility scooter or motorised wheelchair.
Sorry only available on the Sunshine Coast QLD.