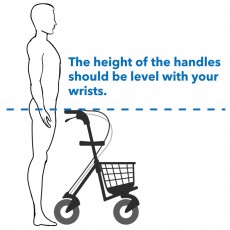 Walking aids are designed to keep you active. The wheelie walkers (rollators) will allow you to walk with confidence and allow you to sit and rest when you need to. What many people don't realise is the importance of making sure your walker is at the right height for you. Adjusting the height of your wheelie walker is important for the right fit, comfort, and safety.
To provide the best support, the height of the handles need to be set correctly. Here are some steps determine the proper height for you.
1. Stand behind the walker with your shoulders relaxed and your arms hanging loosely at your sides and look straight ahead.
2. The height of the handles should be adjusted so that they are level with your wrists. This will position the arms at the recommended 20 degree bend in the elbow when using the walker.
To adjust the height, loosen the knobs on the outside of the handlebars. This will allow you to raise and lower the handlebars to the correct height, once adjusted tighten the knobs.
3. Before moving the walker it is important that all four wheels are touching the ground.
4. For correct position when walking with your walker, your hips should always be in line with with the back legs of the walker, (the wheels closer to you). Part of either foot should always be inline with the rear wheels as you walk. It is important to look straight ahead, not down.
This is one of the biggest mistakes people make, It shouldn't look like you are pushing the walker out in front of you, A walker is meant to be there if you start to fall or lose your balance, so you need to keep it close.
5. Before each use it is important to check that the breaks are working properly. You can just do a quick test by pulling up on the brake handles to see if the the wheels lock briefly and the pushing down on the brake handles to make sure the wheels lock in place and the walker is secure.
When you use a walker correctly you will find that walking is a safe, enjoyable and fun activity again. If you don't feel comfortable adjusting your own walker to the correct height, come into one of our two showrooms with your walker and we will adjust it for you.
Showroom 1
87 Burnett Street
Buderim Qld 4556
Monday - Friday: 9:00am - 5:00pm
Showroom 2
2 First Avenue
Caloundra Qld 4551
Monday - Friday: 9:00am - 4:00pm